New Materialism on the Crossroads of the Natural and Human Sciences
Working group 2 develops inter- and transdisciplinary work at the intersection of the technosciences and the humanities and arts. Areas of expertise comprise feminist theory, science and technology studies (STS), cultural studies along with other disciplines of the humanities and the natural sciences including physics, biology, chemistry, and computer science. Group members undertake empirical-theoretical investigations into complex 'objects' and relations that partly constitute us and the world we live in: airport security, Alzheimer's Disease, big data, brains, cells, food, nanomaterials, organic cows, photovoltaics, race, robots, and more– together with the knowledge practices and technologies that bring them forth.
The aim is twofold: we seek to elucidate an understanding of the processes, apparatuses and agencies by which these dynamic object/relations materialise and become meaningful, and we contribute to scrutinising and sharpening new materialist onto-epistemologies, methodologies, politics and ethics. This includes an investigation into the genealogies of new materialist concepts and frameworks, and their resonances with feminist epistemologies, historical materialism, artistic practice, and postcolonial theory, amongst others. It also includes an examination of the interrelations of geos and bios in sociobiotechnical networks, and the analysis of pervasive knowledge production practices such as genetic testing, data coding and imaging technologies that shape and change knowledge objects as well as worlds.
In all these cases the task is not to supplement what is putatively missing from extant bodies of knowledge. Rather we interrogate the very processes through which specific phenomena and bodies marked by race, sex/gender and species come to matter (or not), and engender and practice a situated ethics of responsibility for what matters and is iteratively excluded from mattering within specific (new materialist) enquiries.
Position papers
New materialisms / New
Colonialisms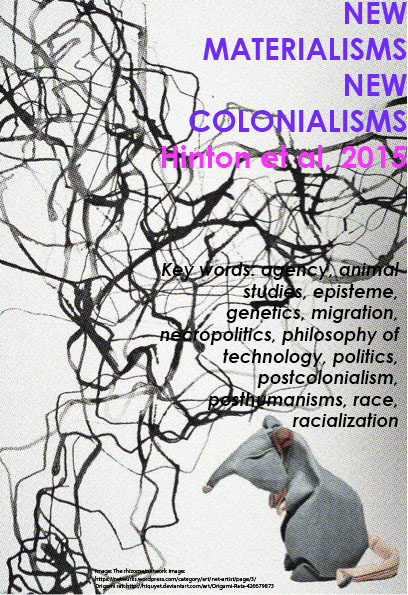 Historical + New Materialsims, & Genderings