New Materialisms Embracing the Creative Arts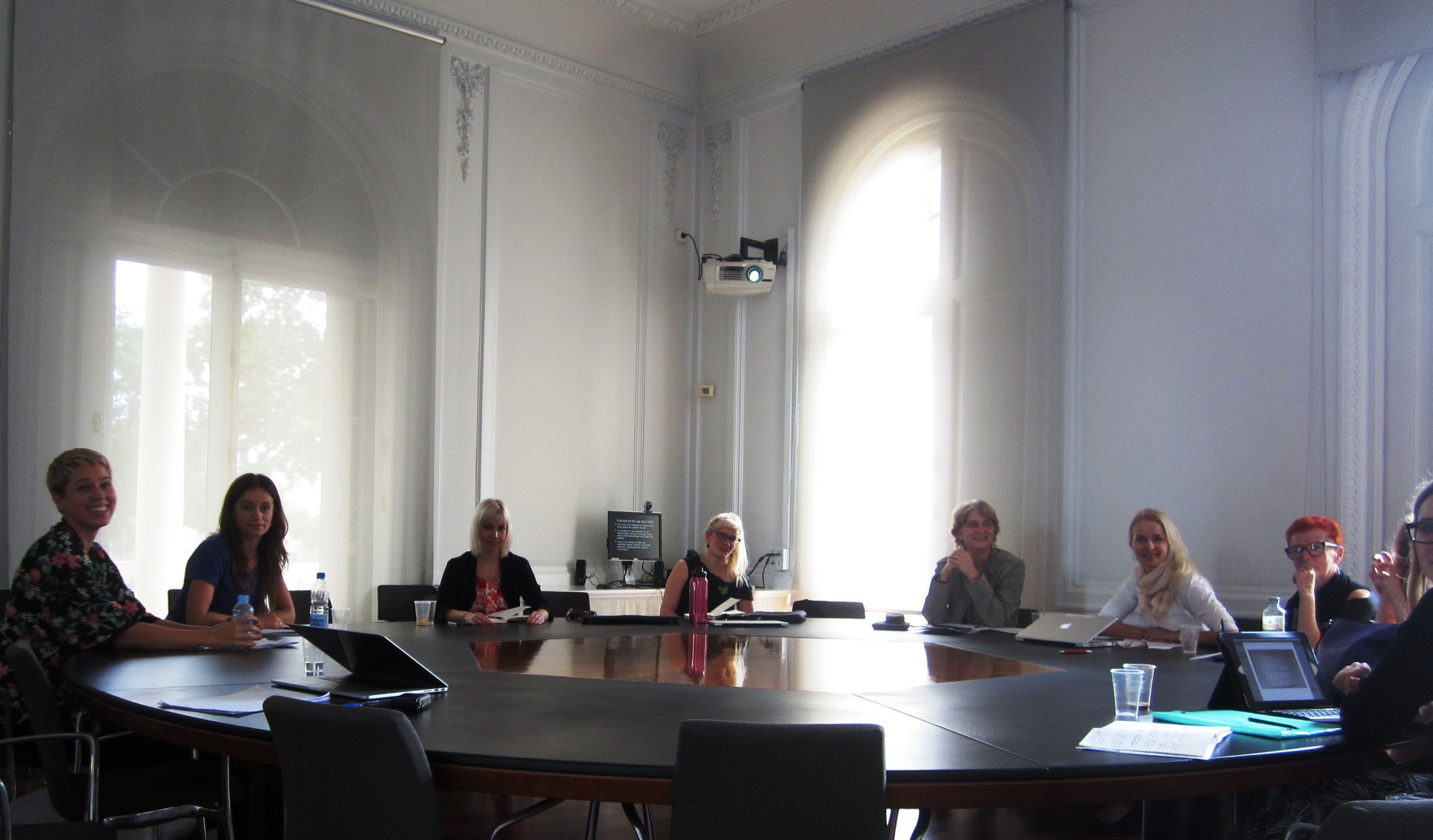 Network Focus and Members
WG3 brings together European researchers, artists, museum professionals, and other activists with a keen interest in the material, corporeal, processual and relational aspects of contemporary arts and creativity. We engage with architecture, crafts, dance, film, digital media, landscape, musics, performance, sound and visual arts. We construct and assess new materialisms across these fields. Our approaches explore and intersect artistic practices, academic analyses and art-as-research.
The starting points shared by the group include a fascination with the specific agentic materialities of different practices and media; multisensoriality and affective politics of perception; and material reconsiderations of place, relation, temporality and memory. We pursue intra-actions between movement (human and non-human material, experiential, ecological) and thought, and between creative practice and new materialist theory-making, ethics and politics.
In these frames, the group focuses particularly on the following issues:
– What constitutes the concepts of art and creativity in contemporary societies?
– Critical study of creative industries, innovation and arts & therapy discourse, new commodification and anti-commodification of art.
– How might New Materialisms redefine arts and creativity through their attendance to affect, matter and the non-human?
– The changing social roles of the arts: wellbeing, everyday creativity, sustainability, democratisation in post-socialist Europe, and resisting instrumentalized understandings while forging more transformative and experimental approaches to arts
– New materialism-inspired methodologies, research and teaching, curricula, curating-as-research, research-art continuums
– New materialist enhancement of gendered and feminist perspectives and models of embodied subjectivity
– Critiquing ethnocentrism within new materialisms, non-western ecologies and cosmologies, cultural and epistemic heterogeneity
– Pushing participation and the political beyond conventional understandings: how can art revisit pasts and create communities to come?
Previous working group meetings have been held at the University of Arts, Belgrade, Serbia, 23–24 June, 2016 (Theme: Creative Art and Material Memories: Serbia / Ex-Yugoslavia between Trauma and Nostalgia) and at the University of Potsdam, Germany 16–18 June, 2016 (Theme: Rethinking Materiality: Affect, Technology, and Art).
Major publications of the working group include:
A special issue on New Materialisms, Cultural Studies Review 21:2 (2015), coedited by Tiainen, Milla (WG3), Katve-Kaisa Kontturi (WG3) and Ilona Hongisto (Thinktank) link
A special issue 'Transversal Practices: Matter, Ecology, Relationality', Volume 16 (2017 - forthcoming), Studies in Material Thinking, coedited by Estelle Barrett (WG3 AU), Barbara Bolt (WG3 AU), Maaike Bleeker (WG2 NL), Katve-Kaisa Kontturi (WG3 FI), Laura Woodward (WG3 AU) link
WG3 Chairs
Prof Marie-Luise Angerer 
Dr Katve-Kaisa Kontturi 
Dr Milla Tiainen 
WG3 Members
Prof. Estelle Barrett
Barbara Benish
Dr Bernd Boesel
Dr Nathalie Blanc
Dieuwke Boersma
Prof. Barbara Bolt
Dr Rebecca Coleman
Prof Felicity Colman
Prof Robin Curtis
Prof Nevena Dakovic
Dr Kim Donaldson
Heidi Fast
Katy Fitzpatrick
Tal Fitzpatrick
Jessica Foley
Dr Žilvinė Gaižutytė-Filipavičienė
Dr Rania Gaafar
Dr Dorota Golanska
Helena Grande
Prof Naomie Gramlich
Prof Leevi Haapala
Dr Anna Hickey-Moody
Helena Hunter
Dr Vicky Hunter
Dr Vlatko Ilić
Dr Visa Immonen
Vappu Jalonen
Guðbjörg R. Jóhannesdóttir
Karolina Kucia
Irina Kaldrack
Martina Leeker
Dr Taru Leppänen
Prof Gertrud Lehnert
Deborah Ligorio
Fiona McDonald
Dr Ljiljana Rogač Mijatović
Aleksandra Milovanovic
Prof. Pirkko Moisala
Rebecca Najdowski
Dr Basia Nikiforova
Mirko Nikolic
Prof. Claus Noppeney
Dr Libora Oates-Indruchova
Dr Aislinn O'Donnell
Prof Michaela Ott
Dr Helen Palmer
Rumen Rachev
Neda Radulovic
Dr Anne B Reinertsen
Susanne Sackl-Sharif
Dr Helga Sadowski
Prof Milena Dragićević Šešić
Prof Anneke Smelik
Dr Wibke Straube
Dr Zuzana Stefkova
Prof Gisèle Trudel
Dr Laura Woodward
Dr Hanna Väätäinen
Prof. Divna Vuksanović
Jane Vuorinen
Michaela Wünsch