New Materialisms Tackling Economical and Identity: Political Crises and Organizational Experiments
Manifesto: New Materialisms and Organizational Experiments in the Context of Contemporary Political and Economic Crises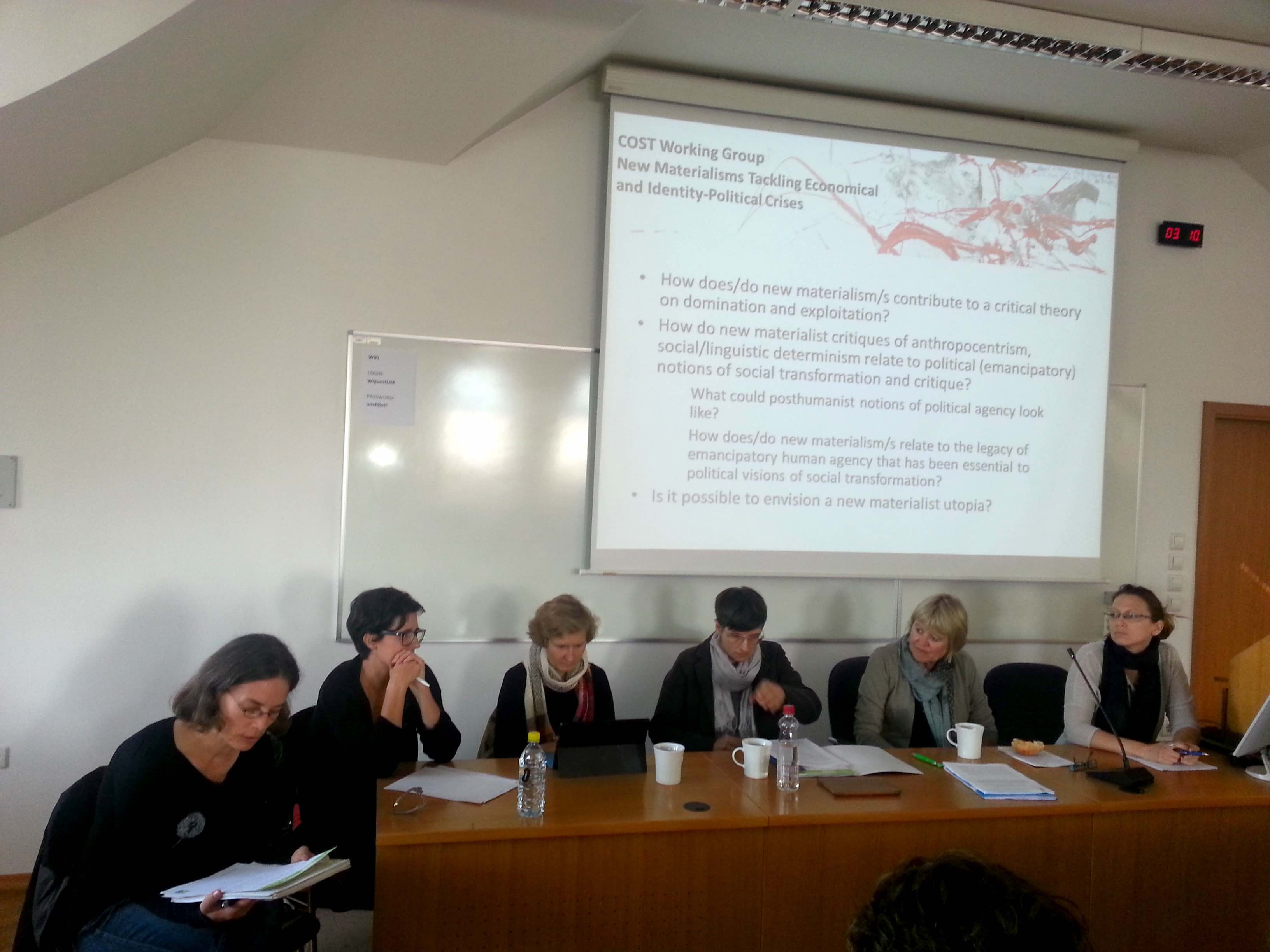 We begin in our own backyards. We are academics and activists. We want to experiment with academic structures to break open hierarchical spaces, deconstruct institutional underpinnings, and design new teaching practices.
We are joining the COST Action Network "New Materialism", to work on establishing a political project in new materialisms. We believe that the genealogical approach in the new materialisms can be used to revitalize socially critical concepts. We believe that a contextual emergence of new ideas transforms emancipative practices and vice versa. We want ways of working which turn organizational experiments into shared experience channelling into techniques of use for ourselves and others. We can move toward a more collective world which is attentive to relationality. We propose that by engaging different political agencies, we can learn to operate in ways that are unhierarchical and less human-centric.
To achieve this, we consider it essential to experiment with the ways we inhabit space, organize our time and practice care.
Current academic structures, as they are, are increasingly producing precariousness and are not conducive to the things we want. However, in all structures there are liminal spaces for intervention. We find this group and its tools (journal, training school, case studies) as an opportunity to trouble and shift academic standards of legitimacy.
We are attempting to: reflect on how we work, teach, learn, and share. How we shift perspectives; how we engage with students and fellow academics, how we invent collaborative techniques and envision new apparatuses. This is an ongoing process that does not have a set end. And it shouldn't have to.
PS. We have deep political understandings that the words we choose have weight, shift matter and are parts of bodies of thought and understandings we do not necessarily want to reproduce/to let take much ground in our practices. We are working together to find ways of discussing/representing/practicing that we feel ally with our collective political goals/shared structures. For this purpose, and the complications of strategies and available linguistic tools, we have put in italics the words/ideas that we feel must be troubled/are conflicting with some of our collective politics/etc.
Part of the political project of our working group is experimenting in organizing practices. We are working with our process and toward practices of transparency and transformation. Below is a link to our position paper, drafted collectively at the New Materialist Methodologies Conference, held in Barcelona in November of 2014 and subsequently worked on online, and to the draft version of our manifesto, drafted collectively at our working group meeting in Porto in March of 2015, workshopped online, re-opened for discussion and editing at our working group meeting in Warsaw in June of 2015, and shared online.
Barcelona Position Paper
Draft Manifesto
WG4 Chairs
Year 1 (2014-2015)
Prof Jose Carmelo Gomes
Dr Hanna Meissner
Year 2 (2015-16)
Dr Olga Cielemecka
Whitney Stark
WG4 Members
Dr Doris Allhutter
Prof. Maria Del Mar Alonso-Almeida
Dr. Brigitte Bargetz
Noemia Bessa Vilela
Assoc. Prof. Katja Brøgger
Nico Carpentier
Nanna Hlín Halldórsdóttir
Anke Hennig
Dr Ilona Hongisto
Mateusz Janik
Dr. Tomaz Kerestes
Dr. Ana M. Gonzales
Krizia Nardini
Dr Beatriz Revelles Benavente
Dr Monika Rugowska-Stangret
Professor Dorthe Staunæs
Dr Kathrin Thiele
Prof. Sigridur Thorgeirsdottir
Dr. Bjorn Thorsteinsson
Juhana Venäläinen
Tereze Virtova
Michalinos Zembylas